Written by Gladwin J. Singh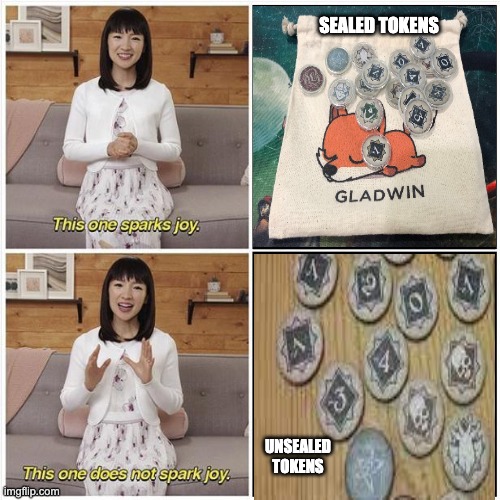 About 1 year in to playing this game, my chaos tokens took a hard beating, especially the auto-fail token. Hmmm… coincidence much? Nooo… I don't throw my auto-fail token out of rage 😉 What??? Nooo… I certainly do not scratch or squeeze my auto-fail token after failing a test…pfftt.
I love this game, and besides discussing about game strategies, thematics and narratives, I believe that game components are just as important as well. I mean, taking care of your game components is also another aspect of loving the game…right? So, in this piece, I will share about the coin capsules I use for my chaos tokens along with some additional suggestions. Hyperlinks are included so that you can easily assess some of the sites that sell these components. All of which will help to prolong the lifespan of your game components and amplify your gaming experience of Arkham Horror: The Card Game.
You see… I perspire a lot. My hands get sweaty easily. Sooo…because of my ever perspiring hands reaching out for the chaos tokens in every game, the numbers and design on the tokens started wearing off. It got to a point where I had to look closely on the token to see what number it was showing. I needed a solution.
If you have been playing this game long enough, eventually the numbers and symbols on your tokens will start wearing off as well. You could try just being more careful with how you draw your tokens, but is it worth the risk? Well, I certainly did not want to risk that so here's what I did.
I came across many posts on Facebook, where fans of the game share about their token managements and one that I found to be cheap and accessible was the use of coin capsules to seal my tokens to prevent further damage. The first task was to figure out the size of the tokens and the best capsule to fit these chaos tokens. You can easily find websites that tell you about the size of the chaos tokens or just measure with a ruler. Approximately, the diameter of the chaos token is 25mm. So, you could opt to buy the 25mm coin capsules for a perfect fit, though you may need to squeeze it in. To be safe, I went with a 1mm difference so 26mm instead. They fit fine and don't really shake, when in the capsule.
After sealing my tokens and started playing again, it has a nice feel in the chaos bag. Certainly, it's a lot noisier with the plastics colliding with one another as you try to mix the tokens and draw one. The tokens are thicker now and they feel great when you reach for it. In the table top world, I believe the word we use is 'tactile.' It was definitely worth buying. I was satisfied. Besides, the tactile feel, these capsules will keep my tokens lasting for a long time. 🙂 It's easy to assemble and you can find it on Amazon, or if you live in South East Asia, you can try Shopee and/or Lazada. There are several expensive coin capsules too such as Air-tite and Marcia. Generally speaking, the expensive ones are clearer and they don't scratch easily as compared to the cheaper ones. In the end, it's really up to you if you want to invest a lot of money to protect your cardboard tokens. Because I live in Asia, access to the expensive coin capsules are limited and most of the ones that I bought don't exactly have a brand, but they are all manufactured in China. After a year of using these cheaper tokens, I'm happy to say that they are still going strong. Some of the capsules are a little loose so, just a little bit of glue should be able to keep it intact. The best part about buying the cheaper ones is that, you can get them in bulk, so should your capsules break or fall apart, you'll have enough replacements.
Now, you may start searching for these capsules online and you will come across a range of other products as well. If you are on a budget, you can stick to the coin capsules that I use. However, if you can splurge and want the best tactile experience for your games, you might want to consider getting the 'burger tokens'. It definitely has an added weight to it. So far, most designs for these types of tokens are sublime and gorgeous. It's usually made from metal, acrylic and/or fibreglass.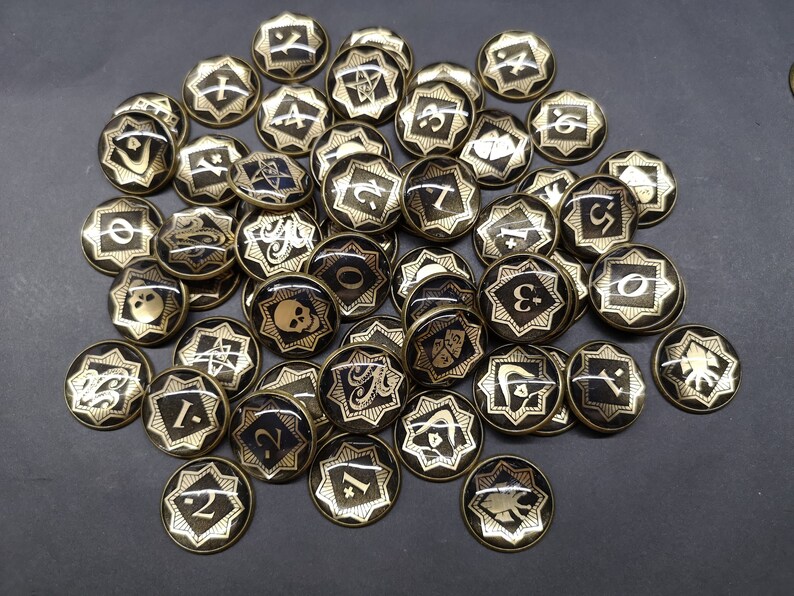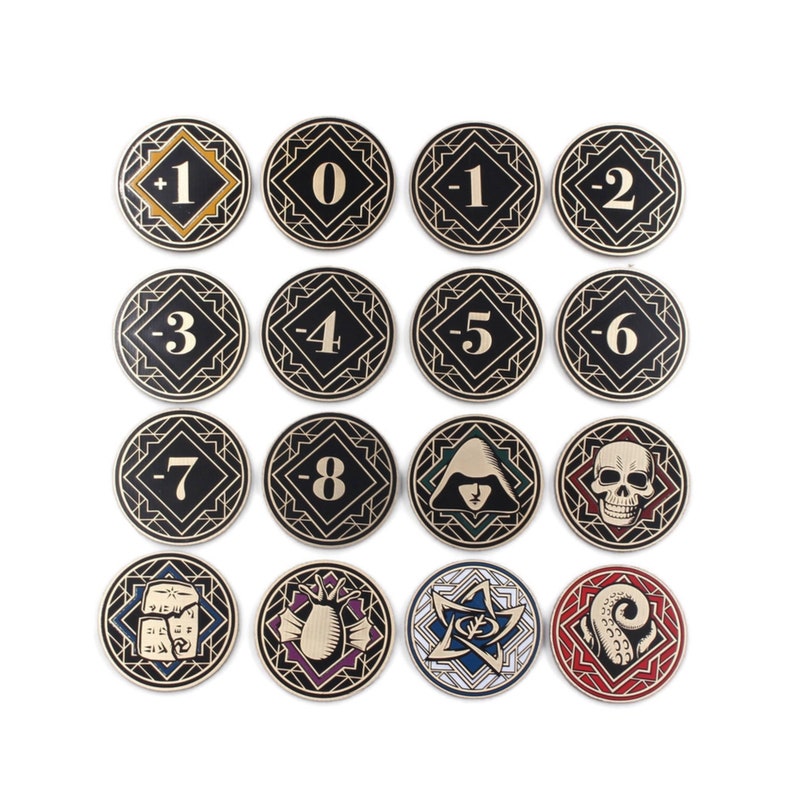 This game has tons of tokens. You still have your resources, health, sanity, clue and doom tokens. Don't they deserve some love as well? Shouldn't they be protected too? Let's face it. You could definitely source for acrylic versions of these tokens, just like how you would for the chaos tokens. You can definitely seal your clue/doom tokens with smaller capsules as well. It all depends on your budget and your willingness to spend for this game. From a practical sense, I would rather seal my chaos tokens because they take the most beating. They are constantly being shaken and messed around with in the chaos bag. Whereas, the health, sanity, clue and doom tokens are just…there so they will definitely last long. Sure…the edges may come off a little and the colors may slowly wear off, but it won't be as horrendous as unprotected chaos tokens in the chaos bag.
To conclude, I believe that most of us who play this game will be in it for the long run. We'll probably have this game for the next decade or so. I certainly want to keep it and play it for as long as I can, even if FFG stops making expansions. There is enough material to revisit this game every time. Therefore, it's in our best interest to keep our games protected so that they last longer. Besides sleeving our cards, game components also need some love too, especially that freaking Auto-Fail token. I mean… chaos tokens. Hence, do consider sealing your tokens, not only on your player cards ;), but in coin capsules.

If you enjoy this article and would like to support this writer, please check out our "Support a Writer" tier over on our Patreon page and select Gladwin J. Singh.
Also please consider joining our Discord channel, to discuss this article and more.